We are proud to be one of the only dedicated Vanagon, Eurovan, and Bus body and paint shops in the country. We do everything from minor collision repair all the way to extensive and complete rust repair projects, including full resprays.
We require an inspection before undertaking restorations or full resprays, and we'll credit the cost of the inspection to your body and paint job. Please note that Peace Vans provides restoration quality work, which means we do everything by hand and only our trained professionals do the work. We will not be the cheapest option for body and paint, but the job will be extremely high quality. It's not unusual for customers to come from across the country for Peace Vans to perform this service.
Update - December 2018: Sadly, we no longer taking any appointments for major body and paint work. We made this decision with a heavy heart as we know how many folks need this kind of work and how hard it is to find someone to do it properly. After almost 7 years of this type of work, we simply lack the resources to continue pursuing it. We are unable to hire the right people (nobody wants to do this work the way we want to), our spray booth is likely going away soon and it's well over 6 figures to install a new one, and the projects are just too much for our team. We have been trying to find someone, anyone, to take up the slack. We have nothing to announce on that end at the moment, but hope to soon.
Body and Paint Style-Things we still will do include:
Tents and pop top refurbishment

Minor window rust repair

Seal replacement (All windows and tops)

Leak detection and repair

Call us if you have questions
FULL RESPRAYS
These projects start at $13,000 and often end up close to $17,000 when finished. The final cost is driven by the level of rust remediation needed before the respray.

Rust is the greatest threat to your van. Our experience is that there is no way to treat rust and stand behind it other than to remove it, and that is often why our projects are so expensive. In many cases, we have to completely remove metal from your van and weld back in new metal (some new body panels are now available from UK-based sources, but sometimes it has to come from a donor van). It takes many labor hours to do this properly; there is just no shortcutting this step. We've seen too many resprays where rust is coming through after only one year or even less. While we can tackle some of the worst rust jobs, there are projects where it is simply too far gone even for experts like us.

All of our jobs are 'glass-out,' 'doors-off.' We remove the tops and in many cases strip the interior as well.

Projects take a minimum of 8 weeks. Please note that our schedule for these projects is usually booked 2-3 months in advance.
COLLISION WORK
Was your van or bus in an accident? You have the legal right to have the work done at the shop of your choice. We have relationships with all the leading insurance companies and a lot experience advocating with them on your behalf. We will do better than most other body shops because we know these vehicles inside and out.

We do an excellent job on both the smallest and largest jobs. When many shops would walk away, we know what these vehicles mean to you, so we step up and try our best to reach a solution.
MISCELLANEOUS BODY AND EXTERIOR
Bumper repair or upgrades (RMW, GoWesty, or those super cool ones you found on The Samba)

Chip Guard liner around the base of the van

Window tinting

Minor dents and dings

Fiberglass pop-top damage

Skylight repair, refurbishment, and leak repair

Turn your tintop into a pop-top (this project starts at $5,000; we have a very limited number of donor tops)

Sound deadening - all panels of the van, under rear bench and up firewall

Windshield replacement with upgraded one piece seal (1-year warranty)
EXAMPLE BODY AND PAINT PROJECTS
'87 SYNCRO MAJOR RUST REPAIR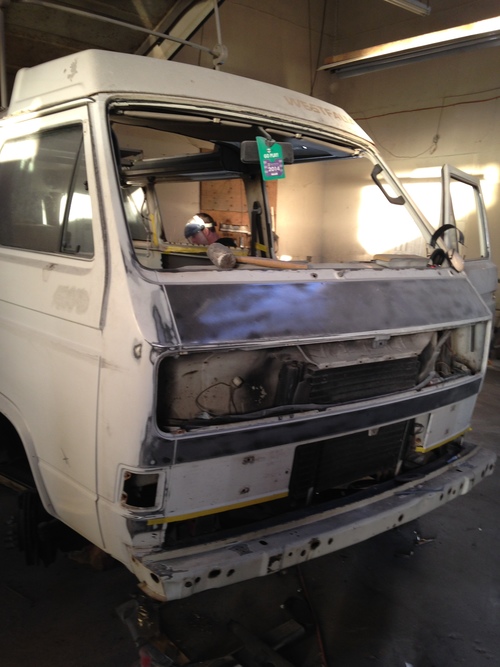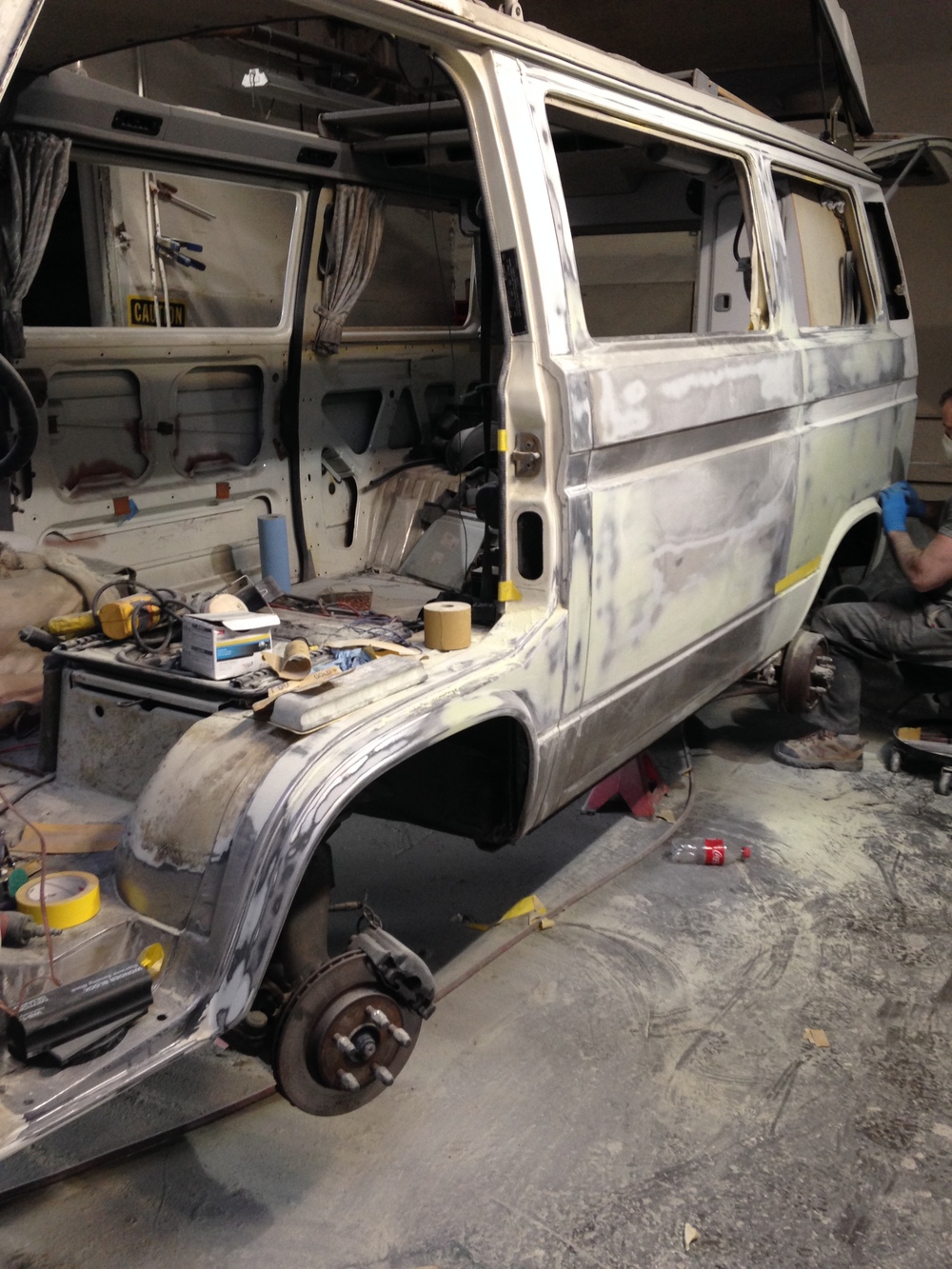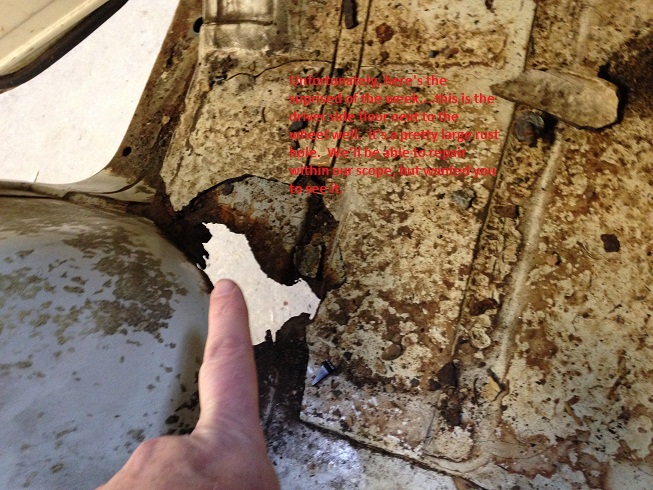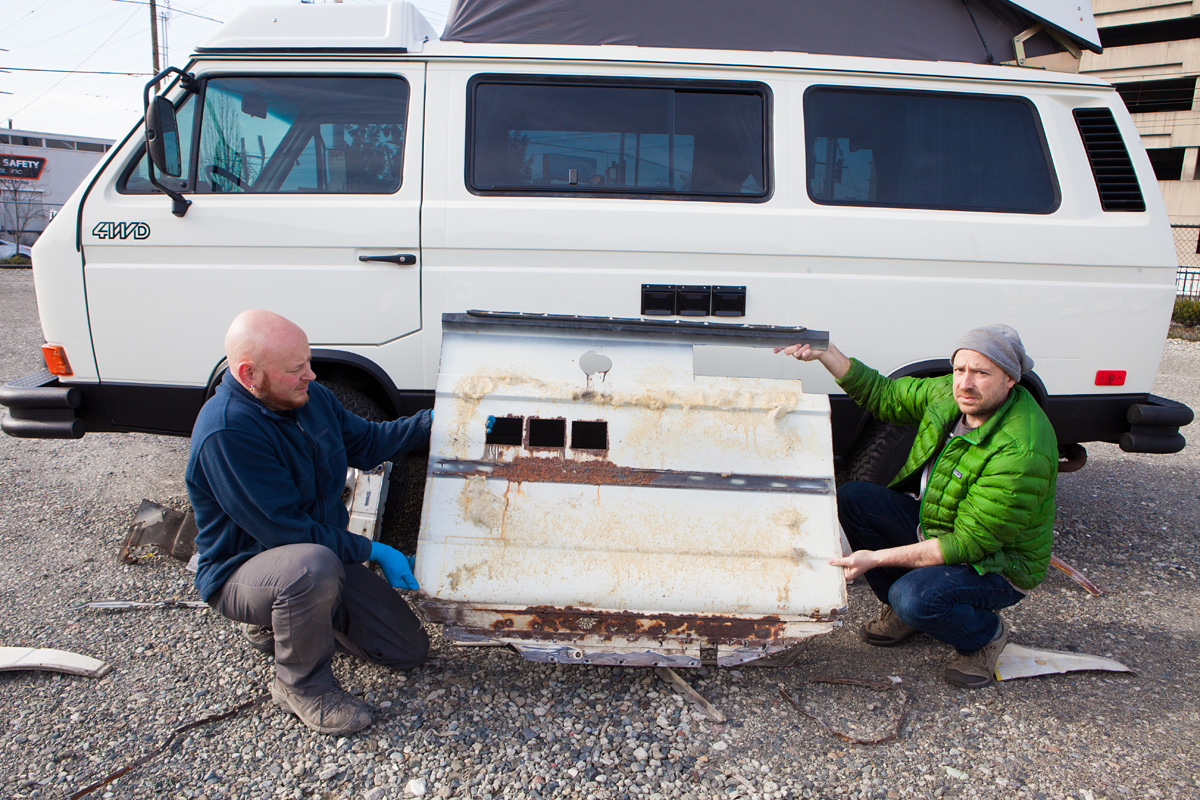 Paul came to us from Hood River, OR with this significant project. The rust was so bad, it was almost too much to take on, but the frame was intact so we went for it. The end result is pretty amazing. This project required significant panel cutting and removal, then replacement from donor vans. These steps are time consuming and it simply has to be done right. The end result was nicer than the factory (a little known secret is that the factory didn't do the greatest paint jobs).
'I'd had my Syncro for about ten years and during that time the rust spots had continued to get worse. Rust in window edging, rusting through from the inside out at the camper hookups, etc. It was like watching a good friend slowly drifting away and dying. I want to continue to enjoy this van (and investment) as long as I can. I had taken it to a couple of local shops and nobody seems to want to do the work, because it was too much work. Finally I found Peace Vans and got really excited because they are the regional experts that specialize in these vans. I took the van up to their shop Seattle to drop it off for a complete assessment and estimate. We all knew the news not going to be pleasant. The rust was extensive and there was even a spots that were rusted all of the way through that you just could not tell without doing a complete tear down. As you can see from the photos, that is exactly what they did. They even went as far as to cut the rusted unibody seams out and reweld them. It was a huge project but totally worth it. The van is now better than the day it rolled off the factory floor and is ready to serve a second lifetime. Peace Vans was great to work with. They communicated well, providing updates, pictures, feedback, suggestions and recommendations throughout the process. Their attention to detail is top notch. Completely satisfied. Highly recommended!' Paul T., Hood River, OR
85 WESTY - FROM THAT TO THIS!
Yes, this really happened, and happens often. While we don't recommend a color change, sometimes it is just what the doctor ordered. And, in this case, it was a good call. We took this well-loved Westy and gave it the full treatment. It was a multi-month project, but it turned out spectacularly and the customer loves it.
'I was hesitant to take this large of a step, but at the end of the day my van was rusting away and I loved it too much to see it continue. Peace Vans spent as much time with me as I needed to understand the process, the options and the costs. They were transparent, thorough, and very detailed about every step. Needless to say, I was extremely happy with the outcome and love driving my van every single day. Thanks to everyone down at the shop for an overall great experience.' Jay, R. Hanover, NH